OPEN HOUSE and Ribbon cutting ceremony, Saturday August 10 from 9:30 AM -12:30 PM
Join us for a Family Fun and FREE Event!
Our new Mesa preschool location is loving, learning & fun environment! When you want unlimited educational resources in a fun environment, our Mesa preschool location should be your top choice!
This location is hands down the leader in learning-fun within the Mesa area. Our state of the art facility has space to cook and provide nutritious meals with top ingredients for your children. This means that we can also accommodate your child's specific dietary needs, and make sure that every child in our care is getting healthy meals and snacks throughout the day. The clean and secure environment at WhizKidz will leave you feeling reassured in the fact that your child is safe and sound in our care. With outdoor spaces for your child to play and learn, as well as quality furniture and learning equipment for them indoors, our Mesa preschool location will provide to all of the developmental and individual needs of your child.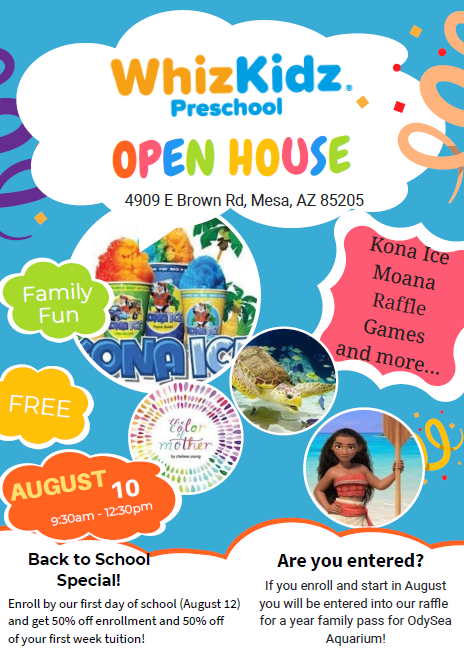 Event Contact:
Martha Picciao-Mazor
Contact Organization:
Whiz Kidz Preschool